NEWS…
11/16/23
3RD THURSDAYS @ GARTEN KICKS OFF TONITE
Tonite we kick off a brand-new monthly singer/songwriter showcase in celebration of original indie music. Each month I'm bringing in a special feature performer to shine a light on the treasure trove of songwriter talent in the mid-Atlantic. 
And the venue is my favorite spot in Central MD! Garten is a mad-delicious mix of German-inspired foodie lust, fantastic cocktails, small batch wines and beers, and a fab vibe for listening!
NOVEMBER FEATURE PERFORMER: August West, Annapolis's iconic guitar and vocal duo with a 30 year legacy of brilliance in the mid-Atlantic. Reservations strongly suggested!
www.garten-eats.com


2023 ANNAPOLIS SONGWRITERS FESTIVAL SCHEDULE
9/15: Stan & Joe's, West St. 3pm
9/16: King of France Tavern @ the Maryland Inn, Main St. 3pm
FULL EVENT SCHEDULE

7/23/23
2023 ANNAPOLIS SONGWRITER FESTIVAL
I'm super-excited (possibly even mega excited) to announce that I am on the lineup for BMI's Annapolis Songwriter Festival, this year in--you guessed it--Annapolis, MD. Dates are Sept 14-17 and venues are all over town. More info as we get it. 

6/6/23
7TH ANNUAL SUMMER KICKOFF SHOW THIS WEEK
Rumor Reel
Pasadena, MD
230-530
TheRumorReelPasadena.com
What an amazing spring its been in the Mid-Atlantic! Somewhere sunny and 75 for sure! And this Saturday, I'm bringing Hola Summer back to its Maryland origins with my first show in MD in 3 years!
It's gonna be special--Boy Derek is joining me for the first time since MOTM 2021, and he & I will be bringing a little bit of Key Westiness to the Rumor Reel, in Pasadena's Pleasure Cove Marina. This perfect little dock bar reminds me so very much of the chill, non-cheesy waterfront places all over south Florida that I love to frequent, with and without my guitar. 
Saturday's weather says blue skies and a high of 79. Combine that with the breeze off the Bay, and that there is proper drinking weather! 
We start at 230, but if you plan to sit down at all you might wanna get there early.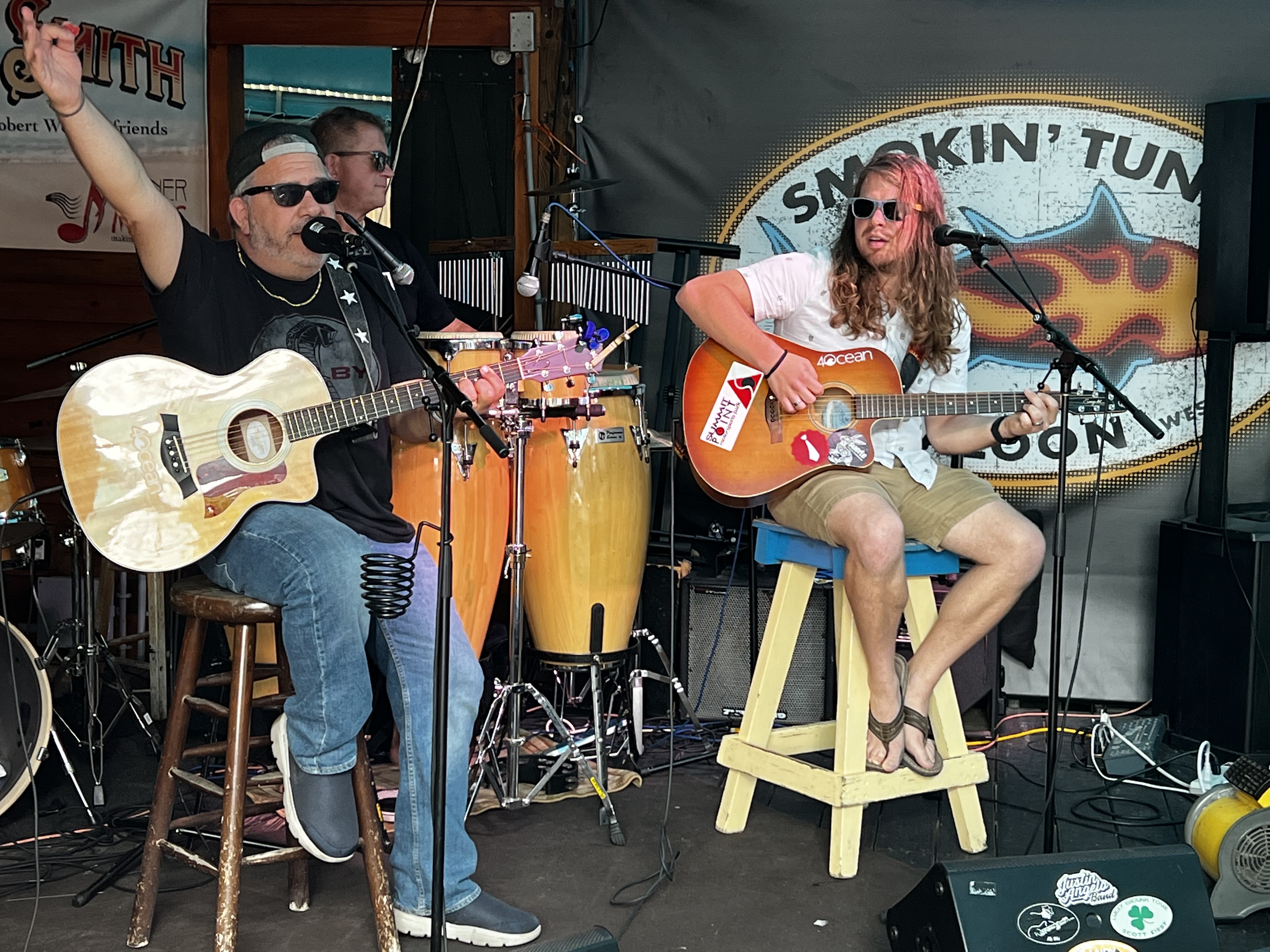 4/29/23
CHARITY CD FOR SHRINER'S HOSPITAL VOLUME 2 RELEASED
When the good folks at Beachfront Radio asked me to be a part of a charity compilation album that combined Trop Rock and Pickleball I jumped at the chance to help Shriner's Hospital, but was still dubious. I mean, I'm a pretty big tennis fan, but….pickleball? Isn't that the game played with oversized ping pong paddles on a court the size of a postage stamp???
But then I was invited to see a pro match, and whoa--was I clueless! Super-fast, intense, cutthroat, it was super cool! And speaking of super-cool, this CD is truly one of a kind. I morphed my song 'Lauderdale Stomp' into 'Pickleball Stomp' (!!!), + wrote & recorded the music for Jan Nicholson's contest-winning lyric "Pickleball Addicts" (the amazing Kacey 'Sunshine Cantello' absolutely nailed the vocal!) . It's a super-fun album with some great artists like Sam Rainwater, Don Middlebrook, Ray Boone, & many more contributing, and all proceeds from this CD go directly to the Shriner's Children's Hospital, so good time music for a good cause. 
More info @ www.BeachfrontRadio.com 
3/25/23
DATES & VENUES FOR TROP ROCK'N DUVAL ANNOUNCED
Well, the official Meeting Of the Minds Fest has moved to the end of October AND up Gulf Shores, AL this year, but never fear--Key West is still alive & kickin!  Venues all across the island are locked in for the very first Trop Rock'n Duval Festival, Nov 1-6.

I'm honored to be performing at the inaugural TRD Festival at several of my favorite venues and an amazing lineup featuring Tiki Thom Starkey, Joe Downing, Jody Bly, and MANY more. Make a plan to join us! Here's my schedule, so far: 

Wed 11/1: Smokin Tuna 1pm
Thu 11/2: Smokin Tuna 130pm
Thu 11/2: Southernmost House 5pm
Fri 11/3: Hank's Hair of the Dog 2pm
Sat 11/4: Hank's Hair of the Dog 3pm
 

2/13/23
HEADED NORTH FOR AWHILE
Hey all--I hope your 2023 is treating you well so far. For us, so far so good, but the ongoing fallout from Hurricane Ian on me personally, as well as our beloved SWFL area, has me hanging my wig back up in Annapolis for awhile.  Gonna make good use of my time here tho, as we've already started work on the new record, and looking forward to playing mid-Atlantic shows with some old friends, and spending more time with local family, and all in time for crab season too. 
Further, I will be bouncing back down to the sunshine for shows in May in SWFL with my favorite rock n roll diva Kacey Cantello, and then in November for Meeting of the  Minds 2023 with shows in Key West, Islamorada, and Gulf Shores Alabama.  
See y'all real soon! 
1/03/23
2022 AWARDS
Many Muchas thank-yous to the fantastic air staff and listeners at US 41 Radio for helping our single 'Sunnyland' (click to listen) reach the 2022 Top 41 Tracks list. This song is extra special to me, as the Sunnyland Trailer Park that I based the lyric on was totally leveled by Hurricane Ian back in September. Where once was a cool little neighborhood just steps from Estero Bay, now sits a half dozen commercial shrimp boats, like a giant kid just dumped his toys in a pile. and massive piles of debris.
12/23/22
HAPPY MERRY EVERYTHING!
Merry Holidays, all. Coming to you live from the frigid, sideways-snowing Mid-Atlantic on Christmas Eve eve, sitting by the fire in the amazing creekside home where the Brothers Osborne grew up. My family is mostly all here, guitars singing to my beautiful new grandbaby, the smell of Chad's BBQ coming from the kitchen, and the Basil Hayden is keeping us warm.
This is how we holiday.
I will end up looking back on the year 2022 with mixed feelings. Amazing highs, like the birth of baby girl, some unforgettable shows (like the BMI songwriter fest gigs, and our US 41 Radio live broadcast from the Twisted Fork in July), and the release of our EP 3 From the Sea in October.
And on the other side, there was the nuclear strike of Hurricane Ian that ravaged our town of Ft Myers and forever altered SWFL. Those BMI shows were on Captiva Island and Ft Myers Beach just a couple days before Ian hit, and I worry that some of our favorite local venues may be lost for good. Here's hoping that I'm wrong.
And I won't even get started on that prick Putin and Russia's invasion of the Ukraine, or the heinous price inflation we're seeing at the supermarket, the gas pumps, the guitar stores, and everywhere else. 
But in the here and now, all is right in the world. 
On behalf of the Borrowed Stars, I want to thank you all for your love and support this year, and wish you a fun and festive Christmas, Hanukkah, Festivus, and a prosperous New Year. 
2023 is gonna rock. 
10/18/22
NEW EP IS OUT!
Well, it took an army, but I'm very proud to say that my new EP 3 From the Sea is out today. I can't even tell you how pumped I am about this one. Those of y'all who have caught us live will know these tracks well. They are such a part of our live sets that I wanted to capture them in that setting. So we gathered the band in a great sounding room dubbed BG's Southern Outpost in South Florida in early August 2022, and banged them out live. The groove, the grit, and the energy, now in captivity. 

Please give a listen, download, and share. Because now, thru the end of the year, we will donate 50% of the revenue from every song download from this site to local charities aiding Hurricane Ian victims. 

9/30/22
"MY CITY WAS GONE"
I KEEP GOING BACK TO THAT PRETENDERS SONG. As often as I write, and as big a mouth as I'm told that I have, I still can't find a way to put into words the magnitude of destruction that Hurricane Ian handed down in our town. It's too immense; like trying to contemplate the vastness of outer space. Our beach town is GONE. Our coastal islands leveled and cut off from the mainland. Hundreds of people still missing.

The aftermath is what I'd imagine it would be like if SW Florida had been nuked, albeit without the radiation.

Most thankfully, the fam and I are ok. I lost my car (and I loved that blue Camaro), my son lost his (which hurts even more), and a couple amps went underwater, but we are intact, minus what was left of our sanity. So many others lost absolutely everything and beaten deep down. 
Many of the places where we shopped, ate, drank, gigged, worshipped, watched football, walked the dog, or just simply chilled, were wiped from the planet in the blink of an eye. Sunnyland, the cool little trailer park that just off Ft Myers Beach that I wrote a song about on "Ugly Babies", was eradicated. I can't even....
 
The overall emotional state of the entire area is still shock, anger, and disbelief. No one's brain is working clearly. No one is sleeping. And I think I set a new record for repeating the phrase "holy fuck". But I do want to thank everyone who has reached out to me and the band to check on us,. It means more than you know that y'all are out there thinking of us. 

The new EP is complete. Release date will be coming out soon, and to be clear, a portion of all download sales will be going to help Ian victims. 

Thanks again!


9/12/22
BMI SONGWRITER FESTIVAL KICKS OFF THIS FRIDAY
Yep, the 8th Annual Island Hopper Songwriter Festival is back in SWL, and I'm pleased as Jerry Punch to have been asked back again. I'm in my natural element this time (Captiva & Ft Myers Beach), and looking forward to showing off what I got, as well as hearing nome amazing players from all over the USA. Here's my schedule: 
9/16: Green Flash, Captiva, 7pm
9/17: RC Otter's, Captiva, 2pn
9/24: Nervous Nellie's, Ft Myers Beach, 6pm
9/25: Cabańa's at Diamondhead Beach Resort, Ft Myers Beach, 2:30pm
these shows are free, so no excuses
 
7/13/22
RECORDING AGAIN!
Coming to you live from our nation's capital as we being work on the 2nd record. While I love the polish and feel of Ugly Babies, this one is headed for a more raw feel, looking to capture the teeth of our live shows. Here we go...


5/5/22
EASTBOUND & DOWN... 
Well, it's no secret that my love of cars & racing is right up there with my passion for la musica. And when the opportunity comes along to combine the two, YES PLEASE. 
So when my booking people told me I had the opportunity to perform for the D1 Hospitality Tent at the inaugural Grand Prix of Miami AND also bask in the amazingness that is Formula One, I was a kid on Xmas morning. 
Crossed Alligator Alley last nite and today we're currently chilling by the pool at a small but very cool AirBnB in Miami Lakes. There's a cooler of cold Pacificos at my feet (happy Cinco de Mayo!), and a guitar on the chaise lounge next to me, under puffy SoFlo clouds. Our set is tomorrow afternoon, then Saturday I have to run back to the other coast for a show that nite at Cape Coral's fantastic Duval Street, followed by a 3rd crossing of the Alley late nite to be back for RACE DAY. Forza Ferrari! 
3/25/22
LIVE BROADCAST SCHEDULED FOR JULY 23 IN PORT CHARLOTTE, FL 
Super cool news today. Our friends at US41 Radio will be onsite for our set at Port Charlotte's Twisted Fork, and will be broadcasting the show live on stream. Twisted Fork is always insanely fun anyway, and this is gonna make things even crazier! Matt Mangas & US 41 have been incredibly good to me and the music, and they continue to support indie artists from all over. Plus, it's an amazing radio station for real music people. Check em out HERE. 
1/31/22 
MORE ACCOLADES! 'DRUNKIE'S LAMENT' IS THE #3 SONG, AND 'BUY ME AN ISLAND' IS #31 ON US41 RADIO'S 2021 TOP 40! 
The awesome crew at US41 were all over the Ugly Babies EP from launch day on, and have been hugely supportive all year long. Still, when I got news that Drunkie's was their 3rd most requested song for the year, AND that Buy Me an Island also made their annual top tracks list, I was floored. This is the station that is bringing attitude, independence, and energy back to rock n roll radio and its popularity has been skyrocketing around the globe. THANK YOU to Matt & his radio team, and to YOU for supporting us and US 41!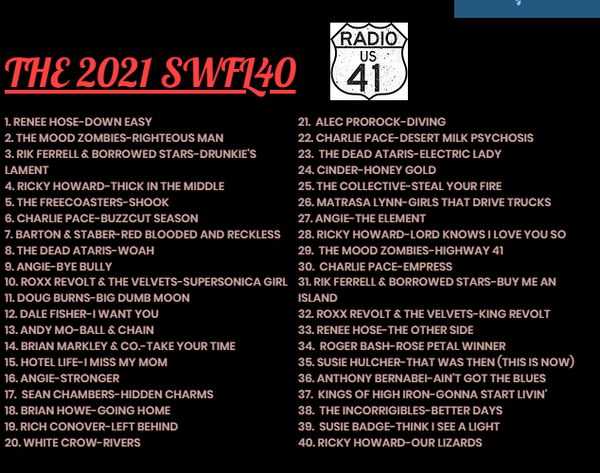 12/29/21
'THE BELAFONTE LIFE' IS BEACHFRONT RADIO'S #5 SONG FOR 2021! 
Just got the news last night that 'Belafonte" was the 5th most-requested song on BeachFront this year. I am beyond stoked at the reaction that my little tropical love song has gotten, as well as the rest of the record! THANK YOU to Andy & BeachFront for getting behind the single, and to everyone who bought/streamed/downloaded/shared it. Nothing is possible without YOU.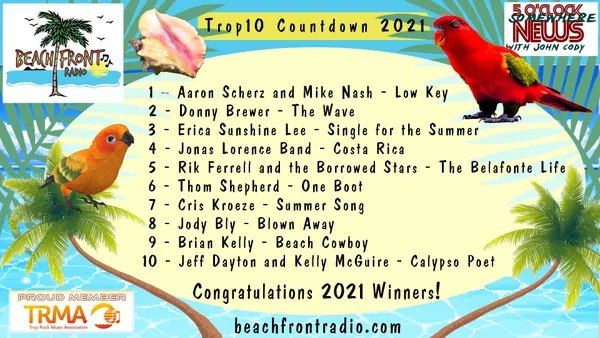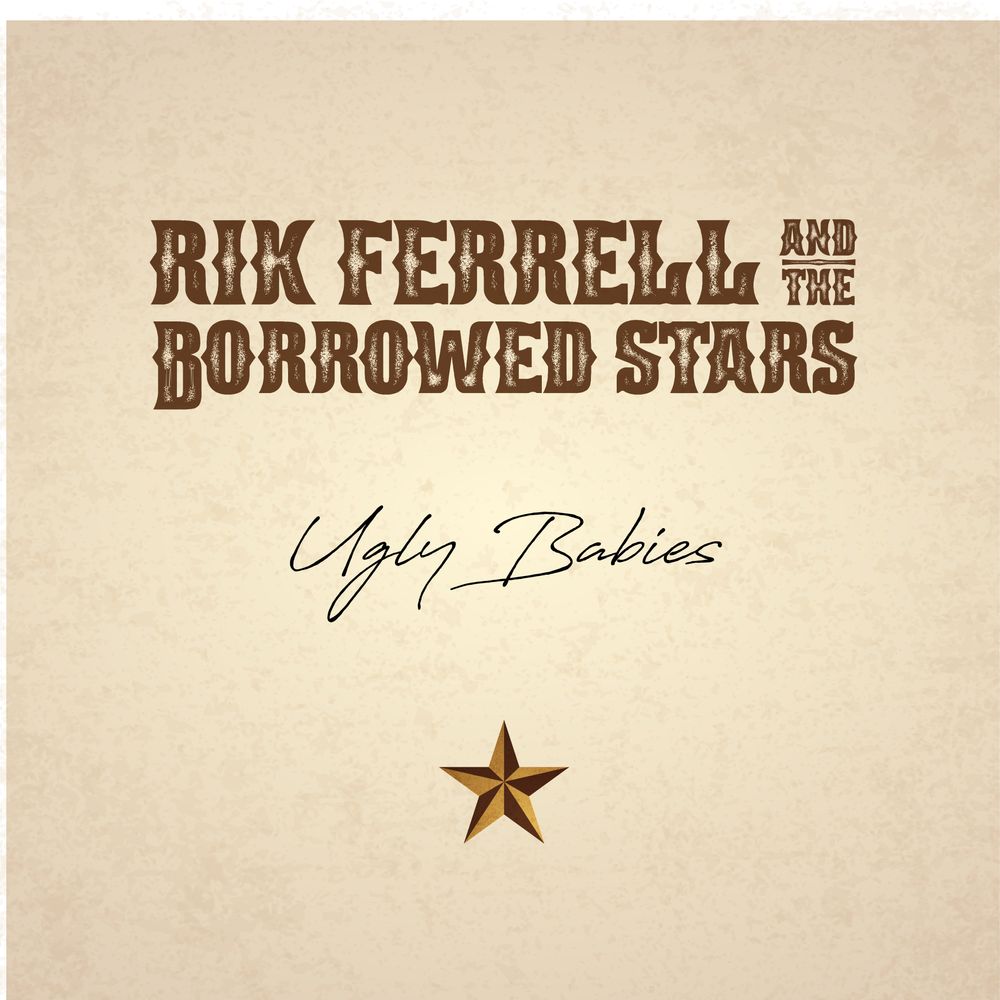 "UGLY BABIES" EP is now available for streaming and download at all major online platforms near you.
LISTEN NOW ON GREAT RADIO STATIONS LIKE:
JOINING ME ON THE NEW ALBUM ARE THE BORROWED STARS: 
-Mark Williams (OAR, Fountains of Wayne) producing and laying down the GOOD guitar parts
-Daniel Clarke (KD Lang, Ryan Adams) on keys and squeezebox
-Derek Ferrell (Will Hill Band, Defrayal, Roadhouse Clams) on bass
-Dusty Ray Simmons (Ryan Adams, Chris Jacobs Band) on drums/percussion
-Phoebe Sharp on backing vocals
-Tom Hnatow on Pedal Steel Guitar

I am so very proud of what we've done here together, and I hope to perform it live in your town sometime this year.

-Rik